Franchising-Business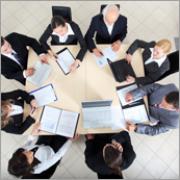 Franchise benefits include: A higher chance of success than in a sole proprietorship due to the following reasons The primary reason that the failure rate is so high is because the owners have to go through the learning curve of operating that specific type business.
Franchising
The Benefits of the Franchise Model
Franchise opportunities let you go into business for yourself, but not by yourself and the business owner isn't out there alone. The benefit of franchising is that the franchisee starts with a business model and established brand name to reap the fruit of success. Franchising provides benefits for both seller and buyer. Franchising is the safety net that has fulfilled the Dreams of many.
Facts - A higher chance of success
Anyone with basic business skills can buy a franchise, because at its core, franchising is following someone else's path to success. In a standalone business, the owner is self managed. As a franchise owner, you can call the shots and enjoy an enviable level of autonomy and independence. At the same time, you can capitalize on a variety of Big-Business Advantages such as:
Higher Volume Bargaining Power
National Connections
Exceptional Training
Professional Marketing Support
Pre-Established Supply Lines
The initial franchise fee and ongoing registration fee allow franchisors to build their brand without compromising on quality. The Fees and Registration charges are used to fund operations at corporate headquarters, train and support franchisees, market and advertise the brand, improve the quality of goods or services, and build the brand in the marketplace.

A higher chance of success: Franchisee v/s proprietorship
Franchisees, benefits include: a higher chance of success than in a sole proprietorship due to the following reasons >
Shorter Time to Opening
Initial Training and Ongoing Support
Lower Costs through Group Purchasing
Use of an Established Business Model
National and Regional Advertising Campaigns
CustomerLeadGenerationthrough Websites andCallCentres

A Network of Peers (Fellow Franchisees) to Provide Advice and Moral Support through a Company Intranet, Annual Conferences, and Franchisee Associations.
Franchising primary benefit is risk minimization. Starting a new business is risky. Most studies show that over 90 percent fail within three years. The primary reason that the failure rate is so high is because the owners have to go through the learning curve of operating that specific type business. Franchising reduces that curve substantially. You have the chance to create financial security through the ownership of your own business, while eliminating the worries and pitfalls of going it alone. You have access to a full line of exclusive tools, procedures, equipment, and more.
Finally, franchising has found a solid economic niche that caters to specialized needs.
Benefits of Becoming An Alma Franchisee
Being a part of, the pioneer in IT Education & Training and India's largest Computer Education Network itself is a major advantage for the franchisee to attain Head Start in Business and make Profits. Alma provides business owners with instant Brand recognition.
Usually it takes years for startup businesses to establish their brand in the marketplace, and even then there is no guarantee that consumers will recognize them as a leader in their industry.
Alma Management is always open to suggestions for change (as well as local or regional variations) from their franchisees network. Alma Centres can recommend addition of courses, if appropriate Alma will approve Innovative Courses to benefit the Centres and students.
Time Tested- A Proven Business Strategy
A big benefit of franchisees is that Alma offer business owners a proven business strategy, while many new businesses struggle to develop a viable and profitable business plan. Alma franchisees have already demonstrated that they are capable of making substantial profits time and time again.
"Follow the system" is a mantra in franchising and critical to a franchisee's success. Franchisees adopt the Alma Operating System and follow it religiously to attain success and make profits. Alma Franchisees by virtue are attached to and resembled with Brand Alma. Franchisees often experience exponential growth with the Brand recognition as the franchising grows and expands.
Franchisers sell a defined, proven business format or method of operation, offering a product or service that has sold successfully. An independent business is based on both an untried idea and operation.

Benefits of Alma Franchisee
1) Advertisement & Marketing Support
A separate cell is established at Alma HO to Co-ordinate & integrates Advertisements & Marketing on regular basis in leading Print media/Electronic media / Banners/ Brochures/ Pamphlets, Posters/Canopy etc. besides, supply of Display Boards, Banners, Posters and other publicity materials at economical price from Alma- Administration Office.
Customized marketing assistance:
From day one, you'll have a variety of professionally designed items to help introduce your business and give it rapid visibility. These materials include eye-catching sales promotional material and stationery.
Franchisee Kit:
The Franchisee Kit consisting of standard start-up materials & Promotional tools shall be supplied free of cost one time and later at economical rates.
Special Budget: Special Budget is allotted to Franchisee for Local sales promotion/ advertisement & publicity for the centre as per mutual arrangement.
Schemes in Association with Leading Players in the Industries:
Alma is known for launching schemes/offers throughout the year which will attract and increase intake of students for the courses to benefit the centres. Some of the associations are with leading players in the industries. Our associates' extent more new avenues with umpteen opportunities to excel in the market and be part of the wining team.
Annual Conference:
Smart business owners never stop learning, which is why Alma began holding and informative annual conferences. Although it is expensive and time consuming, we can promise you a productive experience that will include the chance to fine-tune your marketing and operational skills, learn from other successful franchisees, and meet and interface with key vendors. The experience of the franchiser's management team increases the potential for success. This experience is often conveyed through formal instruction and on-the-job training.
2) Technical Support & Assistance
Training Programs & Employee Policies:
Yet another benefit of franchisees is that the Alma usually provide employee training programs for their franchisees. These training programs equip employees (and franchise owners) to do their jobs efficiently and effectively. This is especially important if the concept is complex. The best training combines classroom or one-on-one training at the franchiser's facility with field training at the franchisee's place of business.
Faculty Training:
The Company is backed by a sound Technical Team in supporting and assisting the franchisees for solving Hardware & Software related issues.
The faculties are trained to handle Theory and Lab Sessions for Basic and Advanced Courses. The training is provided periodically in sizable groups by Alma- Education Team on mutual arrangement.
Latest Courses:
The launching of latest/update/ innovative courses and computer topics will be managed by the Alma HO- Academic-Head, according to the latest trends in IT industry and feedback from Alma authorized franchisee Centres/associates. Alma Management is always open to suggestions for change (as well as local or regional variations) from their franchisees network. Alma Centres can recommend addition of extra courses/tailor made, if found appropriate, Alma will approve the Courses to benefit the Centres and students.
Ongoing strategic advice and education:
We know that market leadership means staying ahead of the latest trends and developments. We'll help you do that via periodic updates to your operating manual and through periodic bulletins and newsletters that share everything from marketing tips to new operating techniques.
Course Materials:
High Quality course materials designed and prepared by Alma Publication, will be supplied to the franchisees at a nominal cost for the registered students with Alma. Courseware is made available in Hard/Soft form to the students.
3) Placement Cell
Alma job Portal
Collective database of Alma students will be stored at the Administrative Office, for placing our students at various IT firms across the country & internationally. The company has tie-ups & linkages with leading players in the concerned fields. To be more specific, recently Alma has launched its own job portal; all authorized centres shall register the pass out/deserving students at www.almajobs.com for placement procedure at no extra cost.
4) Examination and Certification

Examination and Certification shall be organized by Alma in coordination with the concerned Franchisee Centre Head, after the completion of the course (as per Alma prescribed syllabus) in the stipulated duration at the centre. The authorized Centre- head would take required tests and final examination and send the Statement Sheet (down-loaded from the www.alma.in duly filled-in, along with the answer sheets duly checked, to the Alma H.O. The Centre Head shall submit the statement sheet, down-loaded from the www.alma.in , duly filled-in mentioning all the particulars and signed by the centre head with the rubber-stamp of the centre concerned. Consequently, the Alma H.O. will issue the required Certificate, Diploma, Master Diploma & PG Diploma and Mark-Sheet within a period of one month from the date of receipt of the details. Examinations and Certification of the students will be controlled by the Administrative Office- Alma HO- India. Examinations and Certification of the students will be controlled by the Administrative Office- Alma HO- India.
5) Pre-Established Supply Lines
Establishing dependable relationships with suppliers is another challenge new business owners often face. A lack of adequate supplies can cripple your operation's ability to do business, killing any chance your business has to succeed. Not only Alma has pre-established relationships with suppliers, but also sell supplies directly to their franchisees.
6) A Built-In Support System

Finally, Alma provides new business owners with a built-in support system – a safety net to assist them in building a business they can be proud of. This is a particularly important benefit for business owners who have little or no experience in business ownership or business owners who have limited experience in their industry. Before you decide on a specific franchise, talk with the franchisor representative about how much support you can expect to receive after you start doing business. In most cases you'll find that the Alma will be willing to help you as much as we are able, every step of the way. Alma helps franchisees develop a business plan. Many elements of the plan are standard operating procedures established by Alma. The most difficult part of a new business is its start-up, since even experienced managers lack the knowledge to set up a new business.
7) Charted Services- Customization with Mutual Consent

Five days of training at our corporate headquarters in India, where you'll learn the ins and outs of the business & outdoor advertising industry. Our instructors will coach you on every aspect of running a successful business from financial management and marketing to sales and information technology. Just as important, they'll teach you how to find and coordinate the services your clients need, including outdoor advertising design, pricing and production. Airfare, lodging, ground transportation and lunches are included.
An in-territory "product launch" Once you have completed training, a field specialist will come to you market and assist you with new business development and marketing your services. In addition, the franchisee can provide advice about how to develop effective marketing programs for a local area through a cooperative marketing fund, to which the franchisees contribute a percentage of their gross income.

And Above ALL...
No Royalty Concept!
Honorable Membership-AIITA-All India IT Association!
Be a Press Journalist for Alma Times- The National News Paper!
Alma essentially offers the best of both worlds, because you can enjoy the autonomy of being an independent franchisee while also being part of an organization that offers a Built-In Support System and web site. Any assistance you need will never be far away.
Editor's Desk
Say you're going to do something and then do it. If you make plans to meet your friend, don't ditch him for some random date. Likewise, if you commit to go on a date with someone, don't back out at the last minute for no good reason. If you don't want to commit, don't commit. If you're not sure whether you can, check and see. If circumstances change and you have to adapt or postpone the arrangement, that's fine too. If someone doesn't want to make an appointment and then realize he'd rather chill instead. He doesn't want to give ... Read More